In February 2011, I had meeting with a Google account representative who shared a presentation deck titled "Grow Your Business With Mobile." The agenda had four topics:
Why Mobile Matters NOW
How to Think About Search on Mobile
What You Can Start Doing Today
What Is Your Mobile Opportunity?
Oh, how I loved that deck. It had this awesome chart showing the release date of mobile phones from major brands like Apple, Android, Blackberry, Palm, HTC, Moto and Sprint. The chart mapped the release date of each mobile device on the X-axis and the number of mobile queries on the Y-axis from these devices from 2007 thru 2010. Google did not display the actual number of mobile queries; instead they elected to normalize the data.
The headline on the chart read "Too Big to Ignore: 30x Growth in 3 Years." It showed how in several key markets, searches from mobile devices were growing faster relative to desktop searches.
Following that meeting, I contacted all my SEO agency clients that did not have a good (or any) mobile experience to tell them how the growth of mobile internet use was going to change their business. Some listened and proceeded to implement mobile SEO recommendations, from mobile landing pages to mobile websites.
At that time I'm not sure if "responsive web design" was common vernacular of SEOs, SEMs or developers. Creating mobile experiences designed specifically for search was painstaking, yet most clients who made the investment yielded a huge windfall as an early adopter.
Not only did we grab early organic search traffic but we bought as much paid search advertising as could. SEM clients found that click-through rates increase 40%, 50%, 60% and even 70% over desktop experiences, which boosted Quality Scores and drove down the cost per click. Our conversion rates increased often well over 100% (really) and the cost per acquisition (leads or sales) nose-dived.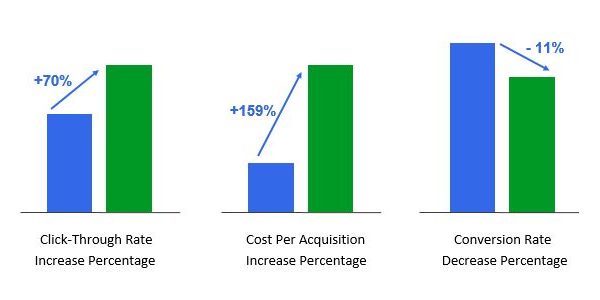 In fact, I recall one client who was the ONLY advertiser in their market vertical for almost 6 months. Imagine owning 100% of the mobile market for 6 months? Wow, how being the first-mover advantage paid-off for this business.
For the next several years I helped clients leverage search demand from their mobile devices. I worked with those with lots of locations (e.g. franchises) to use paid search advertising for hyperlocal mobile-only campaigns that drove calls to these places using local extensions.
For lots of clients we implemented click-to-call ads, and for those clients with mobile apps, click-to-download ads to drive app adoption. The brands with apps are really loving this investment now as these brands can communicate directly to customers, completely bypassing the expense of search advertising and emails that may or may not get delivered or opened.
For SEO clients, we integrated maps into their desktop and mobile experiences and in Google Places (the precursor to Google My Business); this improved organic listings and helped drive foot traffic. I especially loved monthly reporting for local SEO clients where I could show how many people viewed and engaged with their Google Places listing.   SEE MORE HERE